Over 80 years, Mack Valves has built an enviable 'available' back-catalogue of manufactured product. However the speed of today's economy requires reliable and immediate supply of more common products. When you have spent 80 years making anything and everything, what is common?
A previous employee once pointed out that Mack has always been well known for quality and reliability of safety related valves. This was once demonstrated to me while visiting a boiler manufacturer, who quite openly stated that he used cheaper Mack equivalent valves on much of his systems, but would only place a Mack Check Valve before the pump, as the pumps are expensive and can't be risked through the use of lesser products.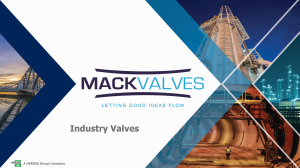 Through the entrepreneurship of past owners and employees, the design and manufacture of safety related valves has lead to the development of other valves for the ecosystem, to control and manage flow. This has given Mack a strong presence in the Water Management, Cryogenic and General Industry applications.
So what is common to Mack? Valves that manage and control flow within the Water Management, Cryogenic and General Industry areas. More specifically, Safety & Relief Valves (standard and high-lift), Globe Valves, Ball Valves, Pressure Build/Reducing Valves, and Automatic Control Valves. Because these are common, Mack is now in the process of stocking all these valves in core size ranges and material types, so we can support our customer base more effectively.
Of course, Mack will continue to be the supplier of choice, where unique industry challenges need a bespoke solution. However with core components and products already stocked, Mack will more quickly support critical flow through your systems.